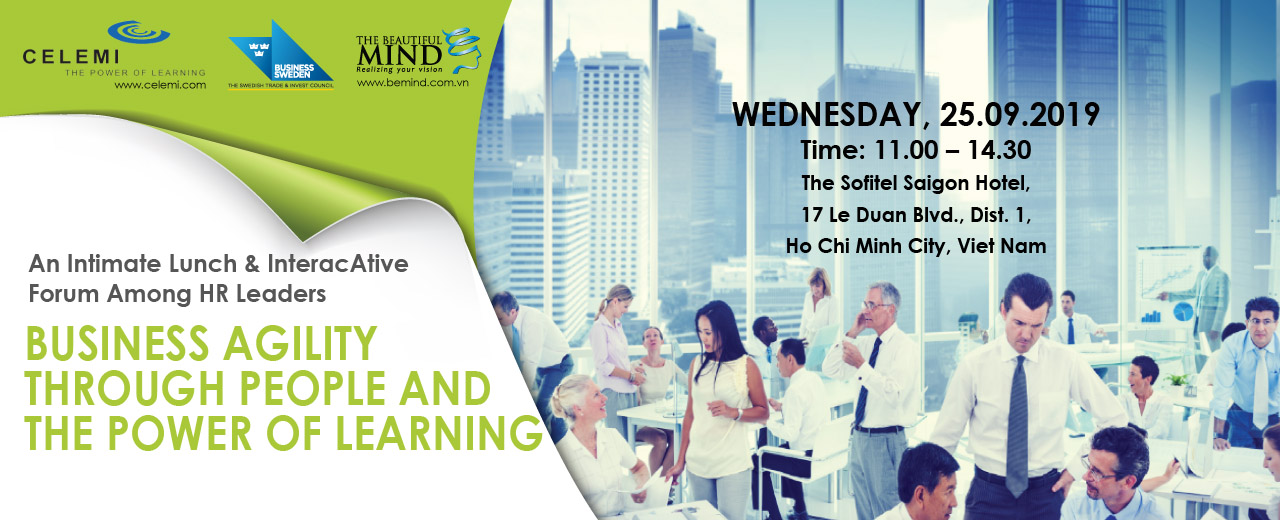 INVITATION ONLY
An Intimate Lunch & InteracAtive Forum Among HR Leaders
BUSINESS AGILITY THROUGH PEOPLE AND THE POWER OF LEARNING
In today's tumultuous economy and digitalized era, business agility is required as much as any other competence. The true power lies in making agility a daily practice, irrespective of the nature, size, and area of operations of a business. The business agility transformation in your company comes through people & the power of learning.
WEDNESDAY, 25.09.2019
Time: 11.00 – 14.30
VENUE DETAILS
The Sofitel Saigon Hotel, 17 Le Duan Blvd., Dist. 1, Ho Chi Minh City, Vietnam
DRESS CODE
Business Casual
Invitees are exclusively leaders of HR, L&D, and OD from larger Vietnamese, Foreign and Swedish Multinational Companies.
The forum is highly interactive and facilitated in English only
RSVP by 13 Sep 2019
Ms. Mai Nguyen: mai.nguyen@bemind.com.vn - Phone: 0903 980 025
Mr. Tim Hansen: tim.Hansen@bemind.com.vn - Phone: 0938 066 320