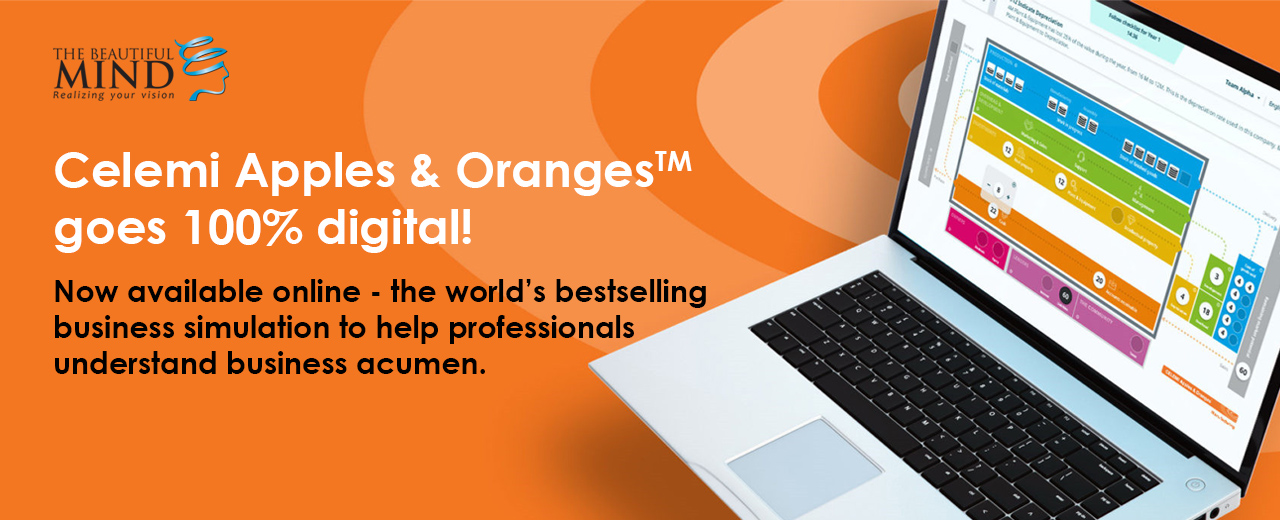 BUSINESS ACUMEN – A POWER SKILL IN NEW REALITY.
The board-based business simulation Celemi Apples & Oranges™ is Celemis bestseller, used by 1.5 million participants around the world.
Now also available in a 100 % digital format!
Celemi Apples & Oranges™ is a ready-made solution, designed to help participants get a big picture understanding of how their decisions and actions translate into financials. It is available both in a board-based format as well as in a 100 % digital format. Both versions are designed for facilitator-led sessions, either in a virtual classroom or in a physical classroom.
Alternative ways of delivering Celemi Apples & Oranges™
The digital format
Facilitator led – can be delivered either in a virtual classroom or in a physical classroom
100 % browser-based (no need to download)

An online app that every participant logs in to (one computer per participant)

For use on any conference platform with breakout room function

Team interaction and dialog in breakout rooms
Empower your employees to think like business owners through the power of play.
In Celemi Apples & Oranges™ participants get an overview of how their whole organization functions, and can relate their daily actions and decisions to the company's profit and loss statement, balance sheet and cash flow statement. Participants are grouped in teams that run one company each, competing with the other teams. To see if they win or lose, they have to complete the financial statements every simulated year. The learning curve is steep and with their new insight, participants come up with ideas on how to improve profitability.
In Celemi Apples & Oranges™ participants will:
Know how to deploy company resources more efficiently

Learn how to read and interpret financial statements

Learn how to identify critical elements affecting profitability

Learn how to analyze financial ratios and key performance indicators

Get an understanding of financial- and management concepts

See how their daily decisions impact the company strategically and financially

See how they continuously can identify improvements in their own business operations

Learn how the business generates profits today, and how it needs to generate profits in the future
Key results
Companies using Celemi Apples Oranges™ Manufacturing benefit by creating a common vision throughout the organization, building a shared baseline understanding of financial concepts, and communicating key messages during times of organizational change. Participants taking part in the program win by understanding how their daily decisions impact the company – strategically as well as financially. Participants will:
Learn the basic business finance language and the logic of business – "how it works."

Understand how their business generates profit today and how it will need to grow profitably in the future.

Understand how to optimize working capital and how the use of assets affects profitability and cash flow.

Gain a better idea of the issues that arise when scaling a company for growth.

See how small changes in operations – such as enhancing the information flow, improving purchase efficiency, and engaging people – can significantly change the outcome and improve bottom-line results.
Demo The Digital Celemi A&O - Business acumen - online version (By invitation only)
Take advantage of the joint experience of Celemi Apples & Oranges Digital, Celemi's best-selling simulation with world-class interactive learning design. Explore running a business in a nutshell and how financial business acumen helps managers drive value creation.
Please contact for more information and registration.